We want to talk to you today about India, a very fascinating country from where many actresses and stars come from who are now enjoying more and more success and who never go unnoticed on international red carpets !
Some examples? To start: the beautiful Priyanka Chopra! And I define her like this not by chance: do you know that she was Miss World in 2000? But she is not the only one! To keep her company other more or less known names, such as the charming Aishwarya Rai (also Miss World, but in 1994) that many of you will already know, or like Kareena Kapoor and Deepika Padukone , who in terms of looks are always very interesting !
PRIYANKA CHOPRA
During the night of the 2016 Oscars it was one of the first to arrive and it didn't really go unnoticed on the most anticipated red carpet of the year. Priyanka Chopra , 37, made her debut as a model, but in 2002 she landed on the big screen and immediately became one of the most popular faces in Bollywood , (the Indian film industry that churns out more than 250 films a year!) And her beauty has amazed me too!
Her looks are always super, she almost never misses a beat! I like the way she emphasizes (without ever exaggerating) her plump lips , the highlight of her face, and I always find her very elegant too!
Eheh here looks almost like another beautiful, Irina Shayk! I err? But in reality it is Priyanka! I think that her amber complexion looks great with that fuchsia on her lips, which in a matte version is very harmonious with the whole look of her and not at all excessive!
Here too I think it's perfect! The green on his dark eyes (which he sometimes covers with colored contact lenses) is really very beautiful (on the other hand you know, on brown eyes it is one of the TOP colors!) And the cat-eye emphasizes his form.
Even the lips, here are really spot on. The nude is perfect for her complexion (I wouldn't have liked it lighter) and even that finish between the satin and the pearly gives the right light to all the makeup! Last but not least, I also love the tone of her complexion and the way she was brightened and grounded with the blush ! <3
Here at the Sag Awards a few years ago!
And here it is again with fuchsia, but also with a pink-purple. Ok, let's say she has figured out what her perfect color of hers is! The warm shades of her lipsticks balance the whole look very well and even her eyes, defined first with a brown eyeshadow, then with a pencil and very long lashes , do their part!
DEEPIKA PADUKONE
In terms of elegance, confidence with the red carpet (as well as strategic poses) and attendance at the most important events, the young Deepika is second to none!
Born in 1986, Deepika also made her debut as a model, but she too soon joined the big 'Bollywood' family! She is the protagonist of one of the most popular Indian films of recent years, Ôm Shanti Öm , and she also wins several awards!
And when it comes to looks and makeup, she has something interesting to show us too! First of all the eyes. Her elongated cut allows her to obtain perfect lines of eyeliner , which she has shown off several times and combined with very original looks!
Here, for example, I really like the combination with the chaplet-style braid and the more rigorous dress!
Red or even orange lipsticks are her must-haves!
Here you can see her with a more 'classic' look, in which she combines bright lips and eyeliner , and a good dose of earth and illuminating , which sculpt her amber skin (which from the photo also seems a bit shiny !: P).
Here, on the other hand, we need a round of applause for the courage and skill with which she wears the very difficult lipstick on her lips! Her complexion certainly gives her a great advantage. With the tone so warm, this color on her works great! Eyes just outlined by brown eyeshadow and eyeliner then do the rest! 😉
So, what do you think so far? Were you pleasantly surprised by these exotic beauties? That's not all! On the next page, other names, a decidedly more high-sounding one, and other Indian stars! Are you curious to discover their looks too? Click here to see them more closely!
AISHWARYA RAI
I have already spoken to you about her before, but today I would like to dedicate a few more lines to her! Aishwarya Rai is perhaps one of the best known and most loved faces and names in Bollywood, but she too is now well known and loved in Hollywood! She was born in 1973 and she too can boast the title of Miss World, won at the age of 20, and from that moment her career is all on the rise!
We often see her at the most important events around the world, and her magnetic eyes have also conquered the European red carpets: one above all, that of Cannes!
In 2003 Aishwarya was part of the jury of the competition, and her look is still memorable!
Jewelery and dress in perfect Indian style, simple and refined make-up, which emphasizes her big green eyes and perfect lips without too many products! Over the years, she has maintained a certain rigor and a certain tradition and elegance even in her clothes, which have made her a true Indian princess of the past and very modern at the same time!
She also loves to experiment with make-up and I must say that over the years she hasn't missed anything: from the most colorful to the most nude and intense ones. Let's see them better!
Here are the very red lips and eyes with green shimmer eyeshadow and a more brownish shade on the lower rim. You rarely see similar combinations on red carpets, but I must say that I don't mind this at all!
What about this other look? Raise your hand if you don't want to reproduce it! I love it, and I find the combination of purple and nude to be superlative! With just the right amount of light and glitter, this makeup is truly elegant!
SONAM KAPOOR
Her career started a few years ago, but Sonam Kapoor is certainly one of the Bollywood actresses who has stood out for her looks at the latest international film festivals, one above all that of Cannes ! Born in 1985, she too stars in several films and gets nominations since the beginning of her career (2007), including as best rookie.
His features are typically Indian and his face is very reminiscent of those wonderful portraits and antique prints! Elongated eyes , pronounced nose and warm amber skin are definitely her hallmarks, but let's see more of her newer looks than her!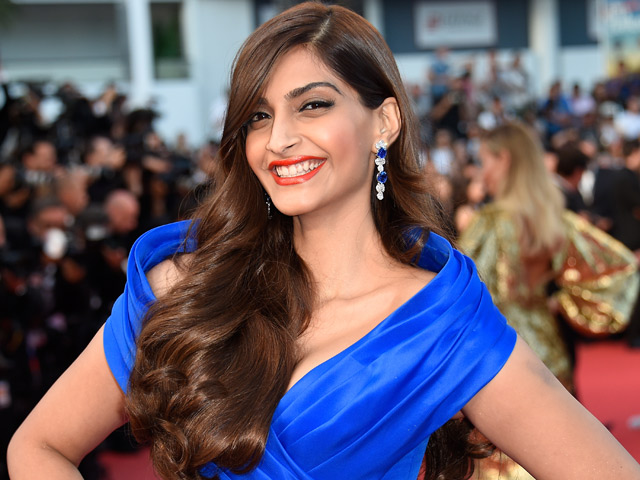 She too, like her colleague Deepika, loves warm orange lipsticks very much! For this look flaunted at Cannes last year, Sonam was made up with a bright and intense orange red , paired with a majestic blue dress!
In the next look, however, I feel like rejecting it. It will be the effect of the lights (which can sometimes be really merciless) will be the effect of too white powder … The fact is that the final effect is very Casper!
I particularly like the next two makeps: the first for its freshness, the second for its oriental charm to the nth degree!
This light smokey in shades of gray and fuchsia lips, I find they are in fact an excellent match, to show off even with an important dress like this black and very worked and very wide!
And here it is instead in princess style straight out of a fairytale. Here everything is in her place: the intense and slightly shiny lips, the eyes illuminated with warm colors and shimmer, the bright blush that is not too much on her complexion. And finally her nose ring , which gives that oriental and fascinating touch and that only she was able to wear so casually!
If you are curious to discover other fabulous looks, more recent and not, and to see the tricks of other stars of the world cinema, here are the links for you!